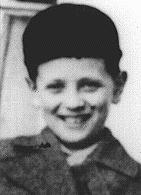 Jacob Wasserman
Born: February 28, 1926
Krakow, Poland
Jacob was the eldest of three sons born to religious Jewish parents in the city of Krakow. His father was a flour merchant. The Wassermans spent summer vacations near Proszowice at a farm owned by their grandfather, who also ran a flour mill.
1933-39: In March 1939, at the age of 13, I celebrated my bar-mitzvah. That summer, we vacationed as usual at my grandfather's farm. We returned to a nightmare. Krakow had been occupied by the Germans on September 6. Jews were not allowed to walk on the sidewalks, to ride streetcars, or even to own radios. We were even afraid to walk in the streets because Jews were often kidnapped and beaten.
1940-45: In 1940, we retreated to the farm. Early one Saturday, the Jews in the area were rounded up. We were being marched into Proszowice when a Polish policeman—two dead bodies next to him—motioned to me demanding why I hadn't greeted him "Good morning." As I came closer he loaded his gun and pointed it at me. But as I passed, he bashed me with the barrel, smashing my nose and jaw. I broke away and lost myself in the column; the policeman shot someone else instead. Four days later my father and I were deported to the Prokocim camp.
Jacob spent the rest of the war in labor camps. In 1947 he attempted to immigrate illegally to Palestine, but was detained in Cyprus by the British. He settled in Israel in 1948.