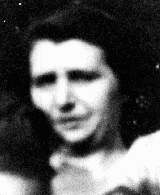 Josephine Kohn Dermer
Born: 1887
Vienna, Austria
Josephine, known affectionately as Pepi, and her brother and three sisters were raised in Vienna. Her father traded in furs and her mother was a homemaker. Only a few years after Pepi married, her husband died unexpectedly and she was left to care for their young son, Fred. She and her son moved in with her widowed father.
1933-39: Pepi spent much of her time with her sister Helene. Helene's husband was a Singer sewing machine representative, and in the summer of 1937 Pepi and Fred joined him and Helene on a sales trip through the Austrian countryside. After the Germans annexed Austria in 1938, Pepi and Fred, with Helene and her family, arranged to be smuggled, via the Netherlands, to Brussels. There, as illegal refugees, they were sheltered by the Jewish community.
1940-42: The Germans occupied Belgium in 1940. In the spring of 1942, Fred received a summons to present himself to the German authorities. Fred decided to report, and was told that he would be taken away "to perform labor for the war effort." Dispirited after Fred was taken, Pepi remained angry, convinced that something could have been done to dissuade her teenage son from reporting, or that he could have been hidden.
Pepi never saw her son again. She was arrested in Brussels in a raid in the late fall of 1942, and perished in a Nazi death camp.