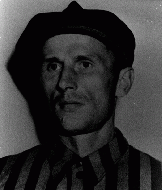 Julian Noga
Born: July 31, 1921
Skrzynka, Poland
Although Julian's Polish Catholic parents had immigrated to the United States before World War I, his mother had returned to Poland and Julian was born in a village not far from the large town of Tarnow in southern Poland. Julian was raised in Skrzynka by his mother on her four-acre farm while his father remained in the United States.
1933-39: At 16 Julian left home and worked as a dishwasher in an elegant Jewish club in downtown Tarnow. When the Germans invaded in September 1939, he returned to his village. There, 27 of Skrzynka's Jews--people Julian knew--were forced to dig their own graves and then shot. In some nearby woods he found and hid a rifle abandoned by a retreating Polish soldier. But Julian was betrayed, and deported to Austria to do farm labor for a rich landowner near Linz.
1940-44: Julian fell in love with Frieda, the landowner's daughter, and she loved him too. When her father objected, she moved to another farm. They continued to meet secretly even though Nazi law forbad romance between Poles and Germans. The Gestapo warned Julian, "If you see Frieda again, you're going to be hanged." He was reassigned to another farm, but they continued to see one another until he was arrested on September 19, 1941. He was imprisoned nearby, then transferred to Flossenbürg to do backbreaking work at a quarry.
Julian was liberated on April 23, 1945, while on a forced march out of Flossenbürg. Reunited after the war, Julian and Frieda married and immigrated to the United States.