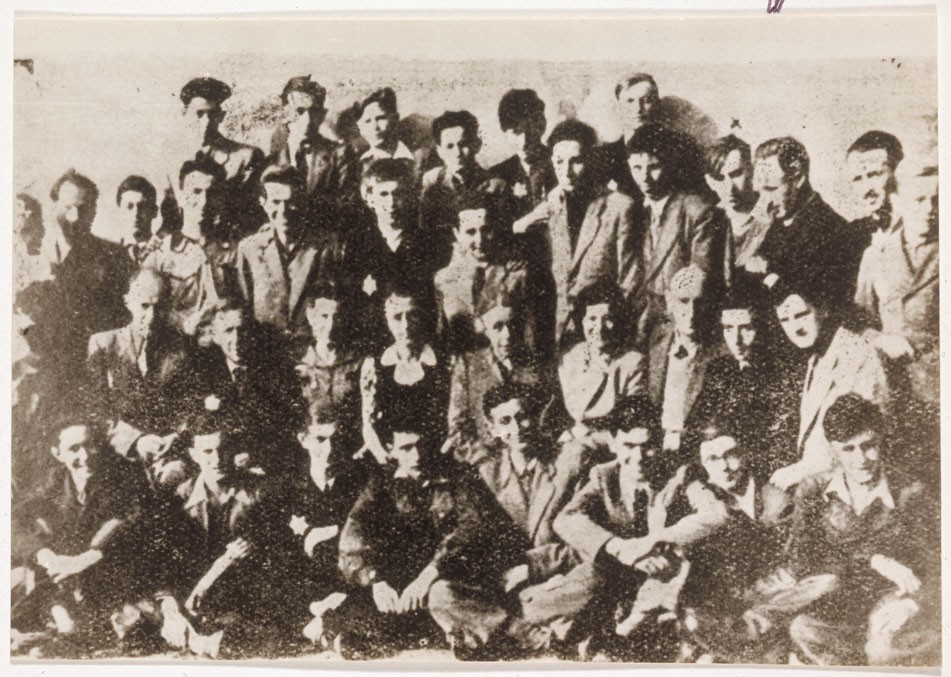 Dawid Sierakowiak
The Jewish children of Lodz suffered unfolding harsh realities after the German invasion of Poland. Some of the children, among them Dawid Sierakowiak, recorded their experiences in diaries. Their voices offer a view into the struggle of a community and its young to live in spite of the most difficult circumstances.
Excerpts
"A student from the same grade as ours died from hunger and exhaustion yesterday. As a result of his terrible appearance, he was allowed to eat as much soup in school as he wanted, but it didn't help him much. He is the third victim in the class."
—Dawid Sierakowiak, age 16, May 13, 19411

 

"I'll start my work in the saddlery workshop tomorrow….My student career has been suspended, at least for a while….The main thing now is to make an income and survive poverty."
[age 17, October 23, 1941]

 

"All I care is that there is soup in my workshop."
[age 17, April 3, 1942]

 

"We are not considered humans at all; just cattle for work or slaughter. No one knows what happened to the Jews deported from Lodz. No one can be certain of anything now. They are after Jews all over the Reich."
[age 17, May 20, 1942]
Dawid's Story
Dawid Sierakowiak was born to Majlech and Sura Sierakowiak in July 1924. His father was a Jewish cabinet-maker. Dawid and his younger sister, Natalia (called Nadzia by her family), lived with their parents in their native city of Łódź (Lodz), Poland.
As a teenager, Sierakowiak was a student at the local private Jewish preparatory school (called gimnazjum in Polish). He attended the school on a scholarship. Dawid was an outstanding pupil and stood at the head of his class. According to his diary, Sierakowiak was an avid reader with keen interests, including foreign languages. He studied English, French, German, Hebrew, and Latin.
Dawid Sierakowiak's Diary
Dawid Sierakowiak began keeping a diary at the end of June 1939, just a few weeks before his fifteenth birthday. This was only a few months before World War II began in September of that year. In his diary, Sierakowiak meticulously recorded the news of the day. He also wrote about his own feelings, moods, and opinions. He continued to write in his diary even after the outbreak of the war.
Sierakowiak's diary offers a day-to-day, first person account of Jewish life under the Germans in occupied Poland, through the eyes of a teenager. In particular, his diary chronicles the tragedy of the Lodz Jewish community, which the Germans concentrated into a ghetto in February 1940.
In his diary, Sierakowiak wrote about the daily tragedies of ghetto life. He described his  desperation to find a job and the sufferings of his younger sister. He also wrote of the growing tensions between himself and his father, as well as the deportation of his ailing mother during the Gehsperre Aktion of 1942.
Dawid Sierakowiak's diary ends abruptly in April 1943. Around that time, he learned that he had obtained a much sought after job in a bakery, but he was already ill and running a high fever. Despite the glimmer of hope at having obtained work, Sierakowiak despaired of the situation he and the Jews of the Lodz ghetto faced. In his diary he wrote:
"Again out of impatience, I feel myself falling into melancholy. There is really no way out of this for us."

—From The Diary of Dawid Sierakowiak, April 15, 1943
Dawid Sierakowiak died on August 8, 1943, probably of tuberculosis. He had just turned 19 years of age. His father also succumbed to the harsh conditions in the ghetto. His sister Nadia survived until 1944, when she was deported with the last ghetto inhabitants to her death at Auschwitz-Birkenau.
Right after the war, the gentile Pole who had owned the apartment before it was appropriated as part of the ghetto returned. He discovered five notebooks, all that remained of Sierakowiak's diary. Today the five notebooks are housed in the archives of Yad Vashem and the United States Holocaust Memorial Museum. While incomplete, they are a rich and revealing account of life in the Lodz ghetto.
Series:

Young Diarists from the Lodz Ghetto
Critical Thinking Questions
Why are diaries an important part of the historical record?
What makes children's diaries distinct?
How are some of these accounts different from that of Anne Frank?
Investigate the experiences of children in the ghettos.
Further Reading
The Diary of Dawid Sierakowiak: Five Notebooks from the Łódź Ghetto. Edited and with an introduction by Alan Adelson. Translated from the Polish by Kamil Turowski. Foreword by Lawrence L. Langer. New York: Oxford University Press, 1996.
Quotations are taken from The Diary of Dawid Sierakowiak: Five Notebooks from the Łódź Ghetto. Edited and with an introduction by Alan Adelson. Translated from the Polish by Kamil Turowski. Foreword by Lawrence L. Langer. New York: Oxford University Press, 1996.