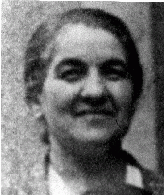 Emma Freund
Born: October 14, 1893
Kippenheim bei Lahr, Germany
The second oldest of six children, Emma was raised by observant Jewish parents in a small town in southwestern Germany and they settled in the industrial city of Mannheim after World War I. There she had two children, a son in 1924, and a daughter in 1930. Emma helped her husband in his business.
1933-39: After the Nazis came to power, Emma's husband lost his business. Her sister Linnchen immigrated to South Africa, and the Nazis deported her brother Arthur to Dachau. When the Nazis burned down the local synagogue and Jewish school in November 1938, Emma and her husband decided to send their 14-year-old son to Britain. They remained behind; her husband felt that the Nazis would not harm them any more than they already had.
1940-42: On October 22, 1940, the Freunds were ordered to prepare to leave Mannheim and to assemble near the train station. They disobeyed the order and tried to hide with a Jewish family living outside of Mannheim, but were discovered. The family was deported to Gurs, a camp in southern France. Emma and her daughter were separated from her husband and then transferred to yet another camp, Rivesaltes. Emma fell ill, but was relieved when a Jewish children's aid society managed to get her daughter out of the camp.
Emma was transferred to the Drancy transit camp in August 1942. She was deported to Auschwitz on August 14 and gassed upon arrival. She was 48 years old.