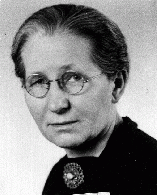 Hilda Kusserow
Born: July 9, 1888
Dembogora, Poland
Hilda was born in a territory ruled by Germany until 1919. A teacher and a painter, she married Franz Kusserow and moved to western Germany before World War I. There, she gave birth to 11 children and became a Jehovah's Witness. After 1931 the Kusserow home in the small town of Bad Lippspringe was the headquarters of a Jehovah's Witness congregation.
1933-39: The Nazis repeatedly searched our home because our family remained openly steadfast in our devotion to Jehovah. I continued doing missionary work even though it was banned. In 1936 I was arrested and imprisoned for six weeks. When I was released I continued hosting Bible study meetings in our home, even after my husband was imprisoned. In 1939 the police took away my three youngest children to be "reeducated" in foster homes.
1940-44: Two of my sons were executed for refusing induction into the German army. My husband returned home on August 16, 1940. Because we kept hosting Bible studies, I was arrested along with my husband and our daughters Hildegard and Magdalena in April 1941. I served a two-year term. When released I was told that I could go home if I signed a statement renouncing my faith. I refused and was deported to the Ravensbrueck concentration camp, where I was reunited with two of my daughters who'd already been there a year.
During a forced march from Ravensbrueck, Hilda and her two daughters were liberated by the Soviets in April 1945. When the war ended, they returned to Bad Lippspringe.