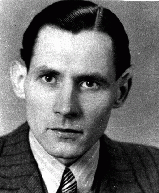 Karl-Heinz Kusserow
Born: December 7, 1917
Bochum, Germany
Karl-Heinz was born during World War I, while his father was in the German army. After the war, his Lutheran parents became Jehovah's Witnesses and gave their children daily Bible lessons. When Karl-Heinz was 13, the family moved to the rustic Westphalian town of Bad Lippspringe. Their home became the headquarters of a new Jehovah's Witness congregation.
1933-39: Because of the Jehovah's Witnesses' missionary work, and because their sole allegiance was to God and His commandments, their activities were banned by the Nazis. After 1936 the Kusserow's home was repeatedly searched and religious literature seized, and Karl-Heinz's parents were arrested more than once. The family continued to offer refuge to fellow Witnesses, and also continued to host Bible studies, illegally, in their home.
1940-44: Karl-Heinz's brother was executed in April 1940 for refusing to serve in the German army, contending that such service violated God's commandment, "Thou shalt not kill." The Gestapo attended the funeral; seven weeks later they arrested Karl-Heinz because of a prayer he had said during the funeral. When he refused to give the Hitler salute, he was knocked down and beaten. He spent two months in prison, where he was tortured, and then was transferred to the Sachsenhausen concentration camp. After two years, he was sent to Dachau.
Karl-Heinz was released from the Dachau camp in June 1945. Gravely ill with tuberculosis, he died in Bad Lippspringe the following year. He was 28 years old.