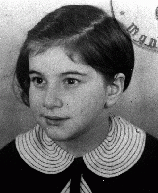 Irene Freund
Born: October 15, 1930
Mannheim, Germany
The younger of two children, Irene was born to Jewish parents in the industrial city of Mannheim. Her father, a wounded German army veteran of World War I, was an interior decorator. Her mother was a housewife. When the Nazis came to power in 1933, Irene's older brother, Berthold, was attending public school. Three-year-old Irene was at home with her mother.
1933-39: Celebrating Jewish holidays with all my aunts and uncles was really nice. One of my favorite places was the zoo; I especially liked the monkeys. When the Nazis forced Jewish children out of public school, I began attending a Jewish school. I was "a daddy's girl," and my father would take me home from school on his bike. After the Nazis burned our school, my older brother left for safety in Britain--I was too young to go with him.
1940-44: In 1940, when I was 10, our family was sent to Gurs and then Rivesaltes, terrible camps in southern France. The food was awful. The Jewish Children's Aid Society took me away and placed me in a Catholic convent along with 13 other Jewish girls. I became Irene Fanchet and studied under Sister Theresa. One day, the SS came to our convent looking for hidden German-Jewish children. One of our girls, who was fluent in French, did the talking for us. It worked. The Germans left, and we were safe.
Thirteen-year-old Irene was freed by Allied troops in July 1944. After being transferred to several children's homes in France, she immigrated to the United States in 1947.