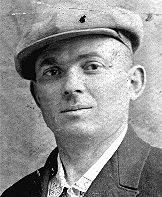 Isaac Sandler
Born: 1894
Vachnovka, Ukraine
Isaac was one of six children born to a Jewish family in the Ukrainian village of Vachnovka in the Soviet Union. In the mid-1920s, Isaac married, and moved to the Ukrainian capital of Kiev.
1933-39: In Kiev Isaac worked as a house-painter. Because he had married a Christian Ukrainian woman, he was shunned by some of his relatives who believed this union violated Jewish law. Isaac was considered the "black sheep" of his family.
1940-41: When Germany invaded the Soviet Union in June 1941, Isaac was mobilized by the Red Army to serve in an engineering unit that was shoring up the defenses of Kiev. As the Germans advanced on Kiev that September, his brigade was captured. The German commander lined up the prisoners and ordered all Jews and political commissars to come forward three steps. Isaac moved forward.
The German commander then ordered the other prisoners to "make an end of them." One of the Soviets removed his leggings and strangled Isaac from behind.