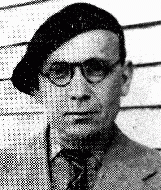 Israel Cendorf
Born: May 19, 1902
Lodz, Poland
Israel was born into a religious Hasidic family who hoped he would become a rabbi. But Israel rebelled and apprenticed himself to a printer when he was 16. He read constantly, deepening his sympathy with the workers' struggle, and he soon began to write his own revolutionary songs. His first book of poems, The Red Agenda, was warmly received.
1933-39: In 1933, the year Hitler became chancellor of Germany, Israel moved to Paris. But the city was wracked by unemployment, and Jewish immigrants were in constant danger of being deported. To support his family, Israel peddled wood from door to door. He continued writing. He joined the Writers' Union and wrote for the New Press.
1940-44: The Germans occupied Paris in June 1940. Israel worked for 11 months with the antifascist underground until he was arrested and deported to Pithiviers, a transit camp of 2,000 Jews. There he helped organize the underground, set up cultural evenings and continued writing. He would go from shack to shack, reading his poems to the other prisoners. One poem, "Our Courage Is Not Broken," was sung as the camp's anthem: "Our courage is not shackled/ Life is marvelously beautiful..." In May 1942 he was put on a transport to Auschwitz.
Israel died in Auschwitz. Many prisoners from Pithiviers sang his song "Our Courage Is Not Broken" on their way to the gas chambers.