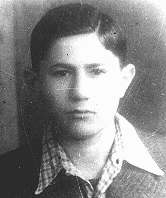 Jakob Frenkiel
Born: December 3, 1929
Gabin, Poland
Jakob was one of seven boys in a religious Jewish family. They lived in a town 50 miles west of Warsaw called Gabin, where Jakob's father worked as a cap maker. Gabin had one of Poland's oldest synagogues, built of wood in 1710. Like most of Gabin's Jews, Jakob's family lived close to the synagogue. The family of nine occupied a one-room apartment on the top floor of a three-story building.
1933-39: On September 1, 1939, just a few months before Jakob turned 10, the Germans started a war with Poland. After they reached his town, they doused the synagogue and surrounding homes with gasoline and set them on fire. All the Jewish men were rounded up in the marketplace and held there while their synagogue and homes burned to the ground. Jakob's house had also been doused with gasoline, but the fire didn't reach it.
1940-45: At age 12, Jakob was put in a group of men to be sent to labor camps. More than a year later, they were shipped to Auschwitz. The day after they arrived, Jakob and his brother Chaim were lined up with kids and old people. Jakob asked a prisoner what was going to happen to them. He pointed to the chimneys. "Tomorrow the smoke will be from you." He said if they could get a number tattooed on their arms, they'd be put to work instead of being killed. They sneaked to the latrine, then escaped through a back door and lined up with the men getting tatoos.
After 17 months in Auschwitz, Jakob was force-marched to camps in Germany. Liberated in April 1945 near Austria, he immigrated to the United States at the age of 16.