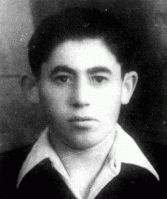 Chaim Frenkiel
Born: November 2, 1927
Gabin, Poland
Chaim was the third of seven boys born to religious Jewish parents. They lived in a town near Warsaw called Gabin, where Chaim's father worked as a cap maker. Gabin had one of Poland's oldest synagogues, built of wood in 1710. Like most of Gabin's Jews, Chaim's family lived close to the synagogue. The family of nine occupied a one-room apartment on the top floor of a three-story building.
1933-39: In September 1939, two months before I was 12, Germany invaded Poland. In Gabin 10 people were shot in the street; doctors and teachers were taken away. A neighbor who had persistently spoken against Germany was arrested. A few weeks later, the family received a box of ashes--his remains. Then the Germans started terrorizing Jews; they doused the synagogue and nearby homes with gasoline and set them on fire.
1940-45: When I was 14, I was taken to several forced-labor camps with my brothers Shmuel and Jakob. Food was scarce, so we'd "organize" food when possible. When working outside the camps, we'd beg at homes, or search for scraps in the garbage. Shmuel slipped under the camp fence at night to pick cabbage from fields. Once, five boys were hung for "organizing" food, but it didn't stop us. Jakob and I wished for one thing: to live through the war, get a loaf of bread, sit at a table and eat till we were full.
In 1943 Chaim was transferred to Auschwitz where he remained for 17 months. After a forced march to Germany, he was liberated in April 1945. He emigrated to the United States in 1949.