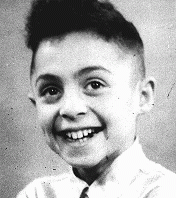 Joseph Muscha Mueller
Born: 1932
Bitterfeld, Germany
Joseph was born in Bitterfeld, Germany, to Roma ("Gypsy") parents. For reasons unknown, he was raised in an orphanage for the first one-and-a-half years of his life. At the time of Joseph's birth, some 26,000 "Gypsies"—members of either the Sinti or Roma tribes—lived in Germany. Though most were German citizens, they were often discriminated against by other Germans and subjected to harassment.
1933-39: At age one-and-a-half, Joseph was taken into foster care by a family living in Halle, a city some 20 miles from Bitterfeld. That same year, the Nazi party came to power. When Joseph was in school, he was often made the scapegoat for pranks in the classroom and beaten for "misbehaving." He was also taunted with insults like "bastard" and "mulatto" by classmates who were members of the Hitler Youth movement.
1940-44: When Joseph was 12 he was taken from his classroom by two strangers who said he had "appendicitis" and needed immediate surgery. He protested, but was beaten and forcefully taken into surgery where he was sterilized, a procedure legalized by a Nazi law allowing the forced sterilization of "asocials," a category that included Roma. After his recovery, Joseph was to be deported to the Bergen-Belsen concentration camp, but his foster father managed to have him smuggled from the hospital and hidden.
Joseph survived the remainder of the war by hiding for five months in a garden shed.