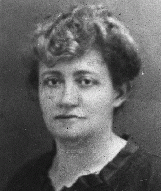 Judith Gabriel Dichter
Born: April 4, 1876
Eisenstadt, Austria
Judith, nicknamed Julie, was one of five children born to religious Hungarian-Jewish parents in the Burgenland, the eastern province of Austria that was part of Hungary until 1921. She married Tobias Dichter, a traveling salesman from Vienna who had sold merchandise to her father. The Dichters moved to an apartment in Vienna's Jewish Leopoldstadt district, where they raised two children.
1933-39: The Germans have annexed Austria. One week after the annexation, Germans came to Julie's apartment to take her husband and son but left after no one answered the door. Several months later, the Germans confiscated her husband's drugstore and all of its contents ("Aryanization"). Judith and Tobias have urged their children to leave Austria, but Judith and her husband are too old to immigrate. Anyway, the Germans will probably leave old people like them alone.
1940-42: Judith and Tobias have been deported to the Theresienstadt ghetto in Czechoslovakia. Last June, for the second time in two years, they were forced to move out of their apartment in Vienna. They were ordered to leave their personal property behind and were put on a transport of 1,000 Jews, many of whom were elderly like them and many of whom they knew. At least their children are safe abroad, and Tobias and Judith are still together. Now, the Germans are telling them that they are to be moved to a work camp.
On September 19, 1942, Julie and her husband were deported to Maly Trostinets, a German killing site near Minsk. They were killed on arrival.