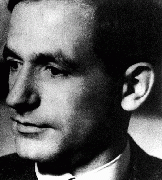 Julius (Julo) Levin
Born: September 5, 1901
Stettin, Germany
Julo was born to a Jewish family in the city of Stettin in northeastern Germany. From an early age Julo showed an interest in art; at 6 he had collected more than 3,000 pictures. His family hoped he would become a businessman, but his interest in painting absorbed all his energy. In 1926 he graduated from art school and by 1931 he secured his first commission in Duesseldorf.
1933-39: Until the Nazis came to power in 1933, Julo was a highly regarded artist. The Nazis' strict interpretation of art, however, left little room for expression. Many artists who did not support the Nazis were labeled communists or "degenerates." In 1933 he was arrested and forbidden to show his work in public. Julo began to teach art in Berlin's Jewish schools in 1936.
1940-43: When the Nazis closed the school where he was teaching in 1941, he was assigned to work as a handyman. Working at the train yard he saw freight trains crammed with Berlin's Jews leaving continuously to the east, and when these trains returned empty, he cleaned the wagons of blood and excrement. On New Year's Eve 1942 Julo made a woodcut titled "Cart rolling downhill," reflecting these dreadful events. He sent it to a friend. On May 17, 1943, he was arrested and deported to Auschwitz.
Julo died in Auschwitz. His precise date of death cannot be determined. His artwork, and that of his students, was preserved by his friends.