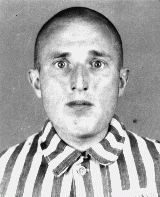 Karl Gorath
Born: December 12, 1912
Bad Zwischenahn, Germany
Karl was born in the small town of Bad Zwishenahn in northern Germany. When he was 2, his family moved to the port of Bremerhaven. His father was a sailor and his mother became a nurse in a local hospital. After his father died, Karl continued to live with his mother. Karl was 20 when he began training as a deacon at his parish church.
1933-39: Karl was 26 when his jealous lover denounced him and he was arrested at his house under paragraph 175 of the criminal code, which defined homosexuality as an "unnatural" act. Though this law had been on the books for years, the Nazis had broadened its scope and used it as grounds to make mass arrests of homosexuals. Karl was imprisoned at Neuengamme concentration camp near Hamburg where the "175ers" had to wear a pink triangle.
1940-44: Because Karl had some training as a nurse, he was transferred to work at the prisoner hospital at the Wittenberg subcamp. One day, a guard ordered him to decrease the bread ration for the patients who were Polish war prisoners, but Karl refused, telling him that it was inhuman to treat the Poles in this way. As punishment, he was sent to Auschwitz, and this time, rather than being marked as a "175er," he wore the red triangle of a political prisoner. At Auschwitz Karl had a lover who was Polish; his name was Zbigniew.
Karl was liberated in Auschwitz in 1945. After the war he had difficulty because of his record of having been convicted under paragraph 175.