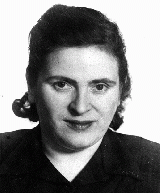 Paula Garfinkel
Born: December 3, 1920
Lodz, Poland
Paula was one of four children born to a religious Jewish family in Lodz, an industrial city with a large Jewish population. As a child, Paula attended public schools and was tutored at home in Jewish studies three times a week. Her father owned a furniture store.
1933-39: My brothers, sisters, and I spent a lot of time at the clubhouse of our Zionist group, Gordonia. Our group believed in humanistic values, Jewish self-labor, and in building a Jewish homeland in Palestine. I liked to work with my hands and did a lot of knitting, crocheting, and sewing. In September 1939, when I was in secondary school, my studies were cut short when Germany invaded Poland and seized Lodz on September 8th.
1940-44: In early 1940 our family was forcibly relocated to the Lodz ghetto, where we were assigned one room for all six of us. Food was the main problem. At the women's clothing factory where I worked, I at least got some soup for lunch. But we desperately needed to find more food for my younger brother, who was very sick and bleeding internally. From the window at my factory I looked out at a potato field. Knowing that if I was caught, I'd be shot, I crept out one night to the field, dug up as many potatoes as I could, and ran home.
In 1944 Paula was deported to Bremen, Germany, as a forced laborer. She was freed in the Bergen-Belsen camp in 1945. After the war, she immigrated to the United States.