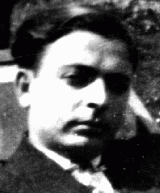 Albert Gani
Born: 1916
Preveza, Greece
Albert and his family lived in Preveza, a town with a Jewish population of 300 that was located on the Ionian seashore. Albert's father had a small textile shop. The Ganis were of Romaniot descent, Jews whose ancestors had lived in Greece and the Balkans for more than a thousand years.
1933-39: After graduating from high school, Albert assisted his father in the family textile shop. A quiet and reserved young man, Albert enjoyed spending time at home with his family. Albert loved taking excursions with his brothers, sisters and friends, going on overnight bike trips and camping out.
1940-44: The Germans invaded Greece in 1941 and took over the region where Preveza was located in the fall of 1943. The Jews of Preveza were deported to Auschwitz in March 1944. There, Albert was assigned to work in Birkenau as part of the Sonderkommando, a work unit that carted dead bodies to the crematoria. On October 7, 1944, the Sonderkommando workers in crematorium IV revolted, disarming SS guards and blowing up the crematorium. Soon, other Sonderkommando workers, including Albert, joined in the uprising.
Albert was killed in Birkenau in October 1944. He was 28 years old.