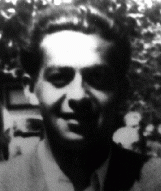 Elias (Elya) Grosmann
Born: March 29, 1921
Medzilaborce, Czechoslovakia
Elias was born in a small town in the hill country of northeastern Slovakia. His family was Jewish, and he grew up in a religious home in which both Yiddish and Hungarian were spoken. His father was a peddler and his mother ran a small general store. Besides attending public schools, Elias received a formal Jewish education and attended Medzilaborce's rabbinical academy.
1933-39: The townspeople were mostly Jewish and worried about Nazi Germany. The German annexation of Austria in March 1938 alarmed us. Some left for Palestine, but our town's Jewish leadership opposed creating a Jewish state in Palestine. I was one of the few Zionists in town. When an independent Slovakia was created in March 1939, it became an ally of Nazi Germany and adopted anti-Jewish laws. We prayed to God to save us.
1940-44: The Slovakian government "Aryanized" our family business and we lost our livelihood. After my twentieth birthday, I was drafted into a Slovak labor battalion; ours was known as the "kosher battalion." I got the same pay as any other soldier, but instead of a gun, I had a shovel. My job was road construction. It was hard work but I was safe until October 1944 when the SS surrounded and captured us. Four days later I arrived at Auschwitz, where I was selected for slave labor rather than for the gas chamber.
Elias was transferred to the Flossenbürg camp in January 1945 and was finally liberated near Dachau by American troops on May 2, 1945. He immigrated to the United States in 1947.