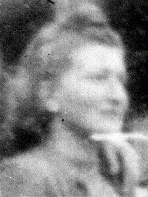 Hela Los
Born: June 26, 1923
Warsaw, Poland
One of nine children, Hela grew up in the Polish capital of Warsaw. Her father was an art and antique furniture dealer and had a store on Marszalkowska Street. Every year, from the beginning of the summer break until the Jewish High Holidays in the fall, the Los family vacationed in the town of Miedzeszyn, located a short train ride's distance from Warsaw.
1933-39: We were still at our vacation home when the Germans entered Warsaw on September 28, 1939. As soon as it became possible, we returned to Warsaw by foot, only to find that our house had been partially destroyed. That winter, the Germans confiscated Jewish-owned businesses, so my father registered his store under the name of our Christian piano tuner who then brought us the money from our store's sales.
1940-45: The Germans confined Warsaw's Jews to a ghetto in 1941. I sewed Nazi uniforms in the ghetto's Toebbens workshop, but seven of my siblings weren't so lucky--they were deported as "unskilled laborers." In 1943, after hearing that an uprising was being planned, my parents, my brother and I hid on our roof, waiting. The Germans threw grenades into the basement bunkers; a few days later, fires threatened our way down. My family escaped in time, but others waited too long--they had to jump from the rooftops; many broke their legs.
A few days later, Hela and her family were deported to forced-labor camps. Liberated in Bergen-Belsen in 1945, Hela immigrated to Palestine in 1947 with her mother and brother.