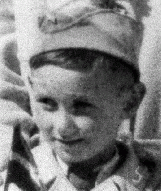 Leif Donde
Born: May 30, 1937
Copenhagen, Denmark
Leif was born to a Jewish family in the Danish capital of Copenhagen. Both of his parents were active in the Jewish community there, and his father owned a small garment factory. The majority of Denmark's 6,000 Jews lived in Copenhagen before the war. Despite its size, the city's Jewish population supported many Jewish organizations, often aiding Jewish refugees from all over Europe.
1933-39: I went to a Jewish nursery school, which was next to a girls' school in Copenhagen. I didn't like my school because they made me take a nap in the afternoon. At school, we learned how to spell and read and sometimes we even sang songs. I played with all kinds of children--some of them were Jewish and some of them were not. I didn't really care; they were all my friends.
1940-44: The Germans occupied Denmark in April 1940. On August 28, 1943, the same day they took over the government, my parents took us to Tivoli Gardens, a huge amusement park in the center of Copenhagen. Leaving the park, we saw people gathered in the street as a convoy of German tanks passed by. Later, my father told us to prepare to leave the city. My parents were scared but it seemed like an adventure to me. We collected warm clothes and took a train south. In October we were smuggled to Sweden on a fishing boat.
After German troops in Scandinavia surrendered on May 4, 1945, Leif and his family returned to Denmark.