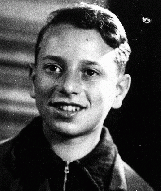 Martin Spett
Born: December 2, 1928
Tarnow, Poland
Known as Monek, Martin was the elder of two children raised by Jewish parents in the large town of Tarnow. His mother was an American citizen who had been raised in Poland. His father worked at the city's tax office. As a child, Martin liked to collect stamps and catch lizards. His parents wanted him to be a pharmacist, but he wanted to be an artist when he grew up.
1933-39: When the Germans occupied Tarnow in September 1939 after war began, Martin was 10 years old. The soldiers, in beautiful uniforms, were polite. But then they started forcing Jews to clean the streets of horse manure with their bare hands. Going to see his rabbi for a Sabbath lesson, Martin found Germans kicking him around in his prayer shawl. In Hebrew, he yelled to Martin, "Run!" Turning to escape, he heard a shot fired. Rabbi Wrubel was dead.
1940-44: In 1940 Martin and his family were forced out of their apartment. After the Germans began rounding up Jews for deportation, his father and uncle dug two ditches underneath the floorboards at his uncle's lumberyard. The day before the next deportation they hid beneath the floorboards. Lying on their backs in the dark for four days, they heard shouting, shooting and dogs barking. During the roundup they heard two Poles above them trying to catch Jews. One peed on them without knowing they were there. When it was finally quiet, they emerged.
Martin was deported to the Bergen-Belsen camp and was freed from an evacuation train by American troops on April 13, 1945. He immigrated to the United States in 1947.