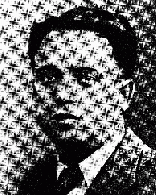 Schloma Wolf (Willy) Szapiro
Born: May 25, 1910
Skala, Poland
Born to a Jewish family, Willy left Poland at age 20 and emigrated to Palestine. He became active in the workers' organization to end the British mandate there. His activities led to his arrest on May 1, 1931. After serving a two-year prison sentence, Willy was expelled from Palestine.
1933-39: In 1933 Willy left Palestine for Austria, where he joined the ranks of the workers' movement. The economic depression in Austria gave momentum to the movement's cause, and Willy and his friends were closely watched by the police. When the Germans occupied Austria in 1938, the Gestapo tried to arrest him. With the help of his friends, Willy escaped to France, and made his way to Paris in search of a job.
1940-44: In mid-1940 Willy found work with a furrier in Paris, who was forced to make clothing for the German army. Willy organized the workers and trained them in sabotage; although many were arrested by the Germans, Willy would counter the arrests by recruiting more people. In May 1943 Willy joined the armed resistance group, Franc-Tireurs et Partisans. On October 27, 1943, he was arrested while attacking a German military convoy. He was tortured, but never disclosed the names of his fellow fighters. He was sentenced to death by firing squad.
Willy was executed on Wednesday, February 21, 1944.