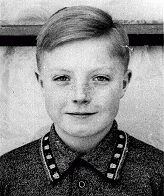 Berthold Mewes
Born: August 19, 1930
Paderborn, Germany
Berthold was an only child. He was raised in Paderborn, a town in a largely Catholic region of western Germany. Paderborn was near Bad Lippspringe, where there was a Jehovah's Witnesses congregation engaged in missionary work. Beginning in 1933, the Nazis moved to outlaw Jehovah's Witness activities.
1933-39: When Berthold was 4, his parents became Jehovah's Witnesses and he began to attend secret Bible meetings with them. Berthold began public school in 1936. His mother was arrested in 1939 and sent to the Ravensbrueck concentration camp. When he was 9, his father sent him to live with his uncle in Berlin; however, three months later his father was forced to deliver him to the authorities. Afterwards, his father was imprisoned for refusing to serve in the military.
1940-44: The Germans sent Berthold to live with a childless couple who had a small farm. In the morning he would attend school and afterwards he would do farm work. Berthold could write one letter every six months to either his mother or father. But in 1943 he was forbidden to write any more letters to his parents. He could only hope and pray that they were still alive. Although he had no contact with other Jehovah's Witnesses, his faith in Jehovah and the teachings of the Bible helped him overcome his loneliness and uncertainty.
Berthold was reunited with his parents in 1945 when he was 15, and together the family resumed their lives as Jehovah's Witnesses. Berthold later moved to the United States.