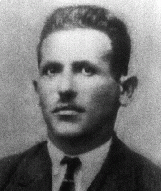 Ilija Lemajiþ
Born: 1897
Svrackovo Selo, Yugoslavia
Ilija was born in a village in the Croatian part of Yugoslavia. Like his parents and two brothers, Ilija was baptized in the Serbian Orthodox faith. The Lemajic family lived in a part of Croatia inhabited mostly by Serbs. After Ilija had completed grade school, his family moved to the village of Dubovac. When he was 30, he married a local girl and moved to Novska, where he found work.
1933-39: I have a nice wife and two beautiful young daughters. I'm employed in the village of Novska in Croatia as a tax collector for the Yugoslav government. As Serbs in a predominantly Roman Catholic Croat village, we must travel whenever we want to attend a Serbian church. Yugoslavia's King Alexander was murdered in 1934--he was a Serb and many of the local Croats celebrated his death by throwing rocks at the windows of Serb homes.
1940-44: When the Germans invaded Yugoslavia, Croatian fascists came to power in Croatia. The new government told me that I'd have to convert to Roman Catholicism if I wanted to keep my job. I refused and was fired in July 1941. I moved my family to the nearby town of Okucani where I managed to find work. But in Okucani I was arrested, once by the Germans and once by the Croatian fascists. Both of those times I was released. Now I've been arrested yet again by the Croatian fascists. My crime--being a Serb.
Croatian fascists murdered Ilija near Okucani in September 1944. He was 47 years old.