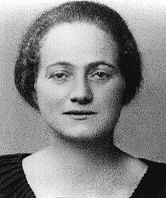 Nanny Gottschalk Lewin
Born: March 13, 1888
Schlawe, Germany
Nanny was the oldest of four children born to Jewish parents in the small town of Schlawe in northern Germany, where her father owned the town's grain mill. Nanny was given the Hebrew name Nocha. She grew up on the mill grounds in a house surrounded by orchards and a big garden. In 1911 Nanny married Arthur Lewin. Together, they raised two children, Ludwig and Ursula.
1933-39: Nanny and her widowed mother have moved to Berlin. They feared the rising antisemitism in Schlawe and hoped, as Jews, to be less conspicuous here in a large city. They live downstairs from Nanny's sister Kathe who is married to a Protestant and has converted. Shortly after they got settled, the Germans restricted the public movements of Jews, so that they no longer feel safe when they're out of their apartment.
1940-44: Nanny and her mother have been deported to the Theresienstadt ghetto in Bohemia. They've been assigned a room on the second floor of a house that is dirty, crowded and infested with lice. The stove is fueled with sawdust. As the youngest in their room--and Nanny is 56--she's been lugging in the bags of sawdust on her back. She's been getting increasingly weaker, is now hard of hearing and needs a cane to walk. Early this morning Nanny learned that she's on a list of people to go to another camp. She doesn't want to go but has no choice.
Nanny was deported to Auschwitz on May 15, 1944, and was gassed immediately upon arrival. She was 56 years old.