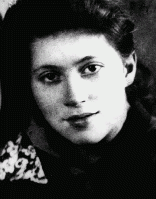 Bella Jakubowicz
Born: September 18, 1926
Sosnowiec, Poland
Bella was the oldest of four children born to a Jewish family in the small city of Sosnowiec, in Polish Silesia. Her father owned a successful knitting factory. In 1938, when she was 12, Bella began attending a private secondary school.
1933-39: When my family returned from vacation in late August 1939, there were rumors of war. My mother tried to stock up on food but the stores were already out of staples. The Germans took Sosnowiec on September 4; two weeks later they interned all the Jewish men in the city. My father was then 39 years old. He came back about a week later. He never talked about what happened, but when he returned his auburn hair had turned gray.
1940-44: In August 1942 all the Jews were ordered to report to Sosnowiec's stadium. Since my father worked in a knitting factory important to the war effort he was exempt; his family was not. After standing all day in the stadium, the Germans took us to a nearby building. Father paid off a militiaman to help us escape. That night, the man found us and led us to the roof where we climbed to the next building and crawled down the chimney. The next day, terrified, we sneaked back to our home, one by one.
In 1943 Bella was deported to a labor camp [Graeben] in Germany and then to the Bergen-Belsen concentration camp in 1944. She was liberated [by British troops] in April 1945, and emigrated to America in 1946.