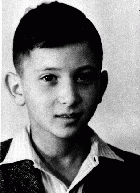 Emanuel (Manny) Mandel
Born: May 8, 1936
Riga, Latvia
Manny was born to a religious Jewish family in the port city of Riga, Latvia. Shortly after Manny's birth, his father accepted a post as one of the four chief cantors in Budapest and the family returned to Hungary, where they had lived before 1933. Manny's father was based at the renowned Rombach Street synagogue. Between the wars, Budapest was an important Jewish center in Europe.
1933-39: Manny's father wouldn't let him have a bicycle. He thought someone might take it away from him because he was Jewish. After anti-Jewish laws were passed in 1938, Jews were severely harassed in Hungary. Manny's father followed him to school to see that he made it there safely. His school was only a few blocks away, but his father was afraid someone might come up behind Manny and push him into traffic. His father said things like that had happened before.
1940-44: Manny was just old enough to explore his neighborhood when the Germans came to Budapest in March 1944. His mother told him that they were being deported. Manny wasn't sure what that was, only that they were leaving. It sounded like an adventure to Manny, but his mother said it was serious. They were with a group of Jews the Germans were exchanging for trucks. They left on trains; at night they slept outside in tents. They came to the Bergen-Belsen camp. It was muddy and Manny's shoes fell apart. That meant he couldn't run around; running was the only "play" they had.
After the war, Manny went to Switzerland with his mother for several months, before emigrating to Palestine in 1945. He moved to the United States in 1949.