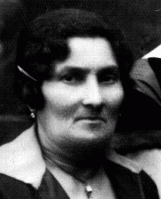 Feiga Kisielnicki
Born: 1888
Kaluszyn, Poland
Feiga lived with her husband, Welwel, and their three children in the small, predominantly Jewish town of Kaluszyn, which was 35 miles east of Warsaw. The Kisielnickis were religious and spoke Yiddish in their home. Feiga was a housewife and her husband was a merchant who often traveled, by horse and wagon, to Warsaw on business.
1933-39: Germany recently invaded Poland, and several days ago, German forces fought Polish troops in a battle right here in Kaluszyn. Half the town, including our house, has been flattened by bombs, so we've moved to Welwel's cousin Mojsze's neighborhood, on the outskirts of town. German troops are now in Kaluszyn, and the Nazis are "resettling" here hundreds of Jews from other towns. Families have all had to double up.
1940-44: Conditions in Kaluszyn have continued to worsen. Here in the ghetto, which the Nazis recently sealed, people are dying of hunger. It's difficult to keep our overcrowded houses clean of the deadly typhus-carrying lice, and my 21-year-old son, Israel Yitzac, has already come down with the fever. I'm afraid for him. He's already weak from hunger, and there's very little medicine. I nurse him as best I can.
Feiga's son died of typhus. In late 1942, the Nazis liquidated Kaluszyn, sending most of the ghetto's population to the Treblinka killing center. Fifty-four-year old Feiga perished.