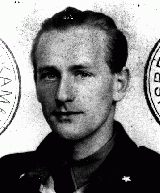 Reidar Dittmann
Born: January 15, 1922
Tonsberg, Norway
Reidar was the third of four sons born to religious Lutheran parents in a small seafaring and whaling town along the Norwegian coast. Reidar's father was a civil servant. Reidar attended public school and dreamed of becoming a musician.
1933-39: Although Reidar was not interested in politics, he sympathized with his Jewish neighbors who had come as refugees from Germany. In fall 1939 he was saddened when Germany attacked Poland and the USSR attacked Finland. Several days later, his oldest brother passed away. On Christmas Eve, as his aunt and cousins joined them at his family's home, he learned that his uncle had also died—his merchant ship was sunk by a German submarine.
1940-44: Reidar was arrested 6 months after the Germans occupied Norway. His crime was disorderly conduct and leading young people in singing anti-German songs. His sentence was 6 weeks imprisonment. After being released, Reidar joined the resistance and helped sabotage his local shipyard. When a new ship sank upon launching, he was arrested again. Reidar received a life sentence, but the Norwegian Nazi government amnestied 1,000 political prisoners in February 1942. After his third offense, the Germans deported him to Buchenwald.
Reidar survived 30 months of captivity in Buchenwald. Released to the Swedish Red Cross on March 18, 1945, he returned to Norway before immigrating to the United States in 1945.