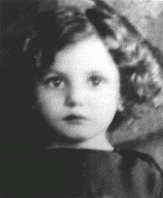 Lilly Appelbaum Malnik
Born: November 5, 1928
Antwerp, Belgium
Lilly Appelbaum was born in Antwerp, Belgium to Jewish parents, Israel and Justine. Lilly's parents separated before she was born. Her father immigrated to the United States. Lilly had two older siblings, Leon (born 1927) and Maria (born 1925). She lived with her maternal grandparents in Antwerp. During the week, her mother lived in Brussels, where she operated a small workshop that made raincoats. 
1933-39: Lilly and her grandparents lived in a predominantly Jewish neighborhood in Antwerp. She went to a public school where she spoke Flemish. At home, she used Yiddish with her grandparents. In 1939, Lilly's grandmother died of cancer. Lilly moved to Brussels to live with Justine. In Brussels, Lilly learned to speak French. 
1940-44: Nazi Germany invaded Belgium on May 10, 1940. Over the next several years, German occupation forces imposed increasing restrictions on Jews in Belgium. Then in August 1942, the Germans began systematically deporting Jews from Belgium to Auschwitz. 
Justine tried to protect her children and find them hiding places. But she decided that Lilly first needed a tonsillectomy, so that she wouldn't become ill while in hiding. As Lilly was recuperating in the hospital, she learned that her sister, Maria, had been denounced by the person who was supposed to hide her. Maria was deported to Auschwitz in September 1942. Shortly afterwards, Lilly's mother and brother were caught in a round up and also deported to Auschwitz. Lilly escaped deportation because at the time she was staying with her aunt and uncle Dworja and Aron Appelbaum.   
Lilly went into hiding with her aunt and uncle in the outskirts of Brussels. In spring 1944, they were discovered, arrested, and sent to the Mechelen transit camp, where they remained for weeks. On May 19, 1944, Lilly and her aunt and uncle were deported to Auschwitz-Birkenau killing center on transport number XXV from Mechelen. 
At Auschwitz, fifteen-year-old Lilly was separated from her relatives. She underwent the dehumanizing camp registration process and was tattooed with camp number A-5143. Eventually, she was assigned to forced labor in a camp kitchen. 
In January 1945, Lilly was evacuated along with other Auschwitz prisoners on a death march. She was then transported to the Bergen-Belsen concentration camp, where she became ill with typhus. She was liberated on April 15, 1945. Lilly returned to Brussels. There, she was reunited with another aunt before immigrating to the United States in 1947. Her mother, brother, sister, aunt, and uncle were killed in the Holocaust.