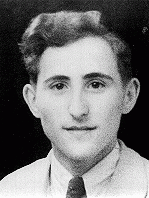 Gerhard (Gad) Beck
Born: June 30, 1923
Berlin, Germany
Gerhard (Gad) Beck was  born in 1923 in Berlin. He had a twin sister, Margot (Miriam). Their father, Heinrich, was a Jewish businessman who moved to Berlin from Austria. Their mother, Hedwig, converted to Judaism to marry her husband. The family celebrated both Christian and Jewish holidays. When Gad and Miriam were born, the Becks lived in the Scheunenviertel, a poor district in central Berlin that was home to many Jewish immigrants from eastern Europe. In 1929, the family moved to a larger apartment in a suburban district of the city.
1933-39: Gad was nine years old when the Nazis came to power in 1933. As one of about a dozen Jewish children in his school, he became a target of antisemitic bullying. Gad recalled a classmate asking  "Can I sit somewhere else, not next to Gad? It smells like stinking Jewish feet here." As a result of the discrimination he faced in his school, Gad's parents enrolled him in a Jewish school. When he was 12, his parents could not afford the tuition and he had to quit. Gad found work as a shop assistant. In 1938, the Becks were required to give up their beautiful, large apartment and move back to their old neighborhood. 
1940-44: In 1940 Gad planned to emigrate to  British-controlled Mandatory Palestine. However, he was injured and unable to travel. Around this time, he joined a Jewish youth group. There, he met Manfred Lewin and developed a romantic and sexual relationship with him. In November 1942, Manfred and his family were ordered to report to an assembly camp. The Lewins were deported to the Auschwitz-Birkenau killing center. Manfred did not survive the Holocaust. 
Because the Nazis classified Gad's mother as "Aryan," Gad, Miriam, and their father had some protection from Nazi anti-Jewish policies. They were not deported to the east, like Manfred's family and most other German Jews. But in February 1943, Gad, Miriam, and their father were arrested. They were detained alongside other Jews with Aryan relatives. They were held in the Jewish Community Center located on Rosenstraße. Gad's mother joined the Aryan women protesting for their loved one's safe return. After about a week, the Becks were released.  
Gad was  involved in the Zionist underground resistance, helping Jews escape to Switzerland. In early 1945, he and a number of his friends from the underground were denounced to the Gestapo and arrested. He remained in prison in Berlin until the Red Army conquered the city in April 1945.
Gad's parents and sister also survived the Holocaust in Berlin. In 1947, Gad immigrated to Mandatory Palestine. He returned to Germany in the late 1970s. He was one of the first openly gay Holocaust survivors to speak about his experiences. His memoir is available in English as An Underground Life: Memoirs of a Gay Jew in Nazi Berlin. Gad lived in Berlin until his death in 2012 at 88 years old.