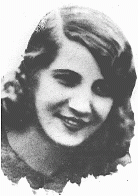 Smiljka Ljoljic Visnjevac
Born: 1905
Mostar, Yugoslavia
Smiljka was one of three daughters born to Serbian Orthodox parents in the town of Mostar in the central Yugoslav region of Herzegovina. Smiljka's mother died when Smiljka was 3, and the three girls were raised by their father. A tomboy in her youth, at 17 Smiljka won the Miss Makarska Riviera beauty pageant and left for Germany to become a fashion model.
1933-39: Smiljka had a successful modeling career in Berlin. With her tall, slim figure, high cheekbones, and almond-shaped, grey-blue eyes, she was noted for her resemblance to Greta Garbo. Smiljka was anti-fascist and left Germany after Hitler came to power. When war broke out in Europe in September 1939, Smiljka was living in the Yugoslav capital of Belgrade with her husband, Tihomir Visnjevac, and their young son.
1940-41: Like many in Belgrade, Smiljka was openly anti-fascist. On March 27, 1941, a new anti-fascist government took power in Yugoslavia. In reaction, Germany launched a surprise bombing attack on Belgrade on Palm Sunday, April 6, 1941. Six days later, German troops occupied the city. Together with her husband, Smiljka, who was known to the Germans for her anti-fascist views during her days in Weimar Germany, was rounded up by the Gestapo. For more than two weeks, Smiljka and her husband were beaten and tortured.
Smiljka was shot by a German firing squad in the Banjica concentration camp in early May 1941. She was 35 years old.